Garage Door Spring Replacement Northbrook, IL 60062
Broken Garage Door Spring near Northbrook, IL?
We Offer A Top-Notch Garage Door Spring Replacement Service!
At US Garage Door Repair®, we take great pride in offering top-notch garage door spring repair and replacement services to our valuable customers in Northbrook, IL. We understand how frustrating it can be to deal with a malfunctioning garage door, which is why our team of experts is committed to providing you with the highest quality services. Our skilled technicians have years of experience in handling all types of garage door springs, and they will work diligently to ensure that your garage door operates smoothly and safely.
Garage door springs are prone to wear and tear over time, and this can affect their overall performance. Your garage door is an important component of your home, so it is crucial that you take action as soon as you notice any signs of broken garage door springs. Once you have located the damaged springs, it is highly recommended that you consider replacing them as soon as possible to ensure the proper functioning of your garage door.
US Garage Door Repair: Northbrook Garage Door Spring Replacement Experts
At our company, we take pride in the expertise of our team of technicians when it comes to identifying spring-related issues in a wide variety of garage doors. Whether you have an electric garage door or a rolling one, we have the knowledge and skills to diagnose any spring-related problems that may be affecting your door's performance. Our experienced technicians will carefully inspect your garage door and identify the root cause of any issues, providing you with a comprehensive analysis of the problem and a detailed plan for how to fix it.
Need Garage Door Spring Replacement near Northbrook?
You can trust us to provide you with a safe, efficient and effective solution to any spring-related problems affecting your garage door. Contact us today for a professional garage spring replacement service anywhere near Northbrook, IL.
24/7

Garage Door Service

847-994-4997
Cook County Garage Door Spring Repair Near You
| Northbrook
Northbrook Garage Door Repair Company
Signs That Your Garage Door Needs Garage Door Spring Replacement
Your garage door plays a crucial role in your daily life, and when it starts showing signs of trouble, it's essential to address them promptly. One of the most common issues homeowners in Northbrook, IL encounter is garage door spring problems. Here are some telltale signs that it's time for garage door spring replacement:
Unusually Heavy Garage Door
If your garage door feels abnormally heavy when you try to open or close it, there's likely an issue with its springs. Typically, your garage door's weight is supported by its torsion spring. A snapped torsion spring can make the door nearly impossible to lift. When faced with this problem, it's essential to inspect and replace the spring promptly..
24/7

Garage Door Service

847-994-4997
Noisy Garage Door Operation
Garage door torsion springs are subject to rotation as the door is operated. Over time, energy released during these movements can lead to spring separation or breakage, resulting in unusual sounds like loud bangs emanating from your garage. If your garage door has become a noise-maker, it's a strong indicator that the spring needs attention. Contact US Garage Door Repair® at 847-994-4997 for expert assistance in replacing various types of garage door springs.
Crooked Garage Door Appearance
Garage door springs not only support the door's weight but also aid in its proper opening and closing. Each side of the garage door relies on torsion springs for support. If one of these springs fails, it can cause one side of the door to appear crooked. To restore your garage door's functionality and alignment, seek professional garage door spring replacement services in Northbrook, IL.
Slow Garage Door Response
A smoothly functioning garage door should open and close at a consistent speed when operated. If you notice your garage door moving sluggishly, it might be time to replace the torsion spring. A broken spring can lead to a noticeable slowdown in the garage door's operation due to automated adjustments in the motor's speed.
Visible Gap in Torsion Springs:
Torsion springs are tightly wound around your garage door to provide support. However, over time, they may relax or break, resulting in a visible gap between the coils. If you spot a gap in your torsion springs, it's a clear sign that you need professional garage door spring replacement services. Attempting to address this issue yourself can exacerbate the problem, so it's crucial to contact Garage Repair Specialists from a reputable local company in Northbrook, IL.
Contact Us For Fast & Reliable Garage Door Spring Repair near Northbrook, IL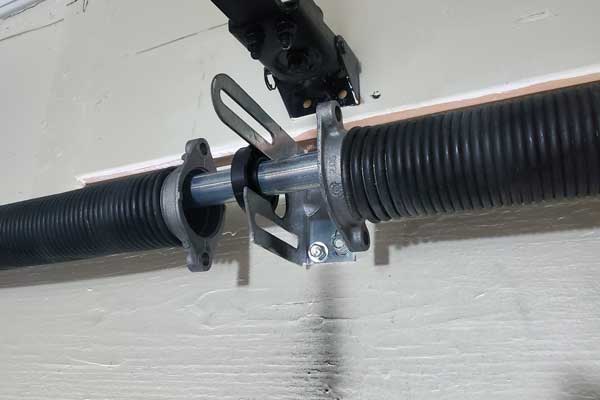 After
Having issues with your garage door springs can be a real hassle, causing disruptions to your daily routine and potentially compromising your safety. That's why US Garage Door Repair® in Northbrook, IL, is here to provide you with swift and reliable garage door spring replacement services.
Not only do we provide fast and efficient garage door spring replacement services, but we also ensure that your garage door operates seamlessly and securely once the job is done. Our top priority is your satisfaction and safety, which is why we use only high-quality replacement parts and materials.
So if you're experiencing any issues with your garage door springs, don't hesitate to get in touch with us. Contact US Garage Door Repair® at 847-994-4997 today to schedule your service and restore your garage door's performance to its optimal level.
Frequently Asked Garage Door Spring Repair Questions near
Northbrook, IL
Replacement of garage door springs costs $150 to $350 on average. Spring prices typically range from $30 to $75, but you can find them as low as $15 or as high as $100. Typically, commercial-grade springs cost $300 or more. In most doors, there are two springs, so you'll have to replace them both simultaneously.
It is still possible to open a garage door if the spring is broken, but it will take some manual effort. Because a broken spring makes the garage door heavier, using your garage door opener could wear out the motor. In the event of a broken garage door spring, we recommend that you do not open it.
In most cases, garage door springs are designed to open and close a garage door 10,000 times. In the average case, a garage door spring will last seven years if it is used four times a day.
Yes. When one spring breaks, you may be tempted to save money by replacing just one, but that will likely result in replacing both. On each side of a garage door, there are two springs. It is the springs that provide the force necessary to make the door light enough to lift.
Map Of Northbrook, IL Garage Door Service Area
Useful links for
Northbrook, IL