Garage Door Section Repair
Garage Door Section Repair near Deerfield
Your garage door section repair provides many benefits for your home. They provide a level of safety for your family and allow ease of access. But they also play a huge role in your home's aesthetics. You probably chose your home's garage door because of how it matched the rest of your house.
Sometimes, a garage door section becomes damaged. It may be due to an accident, or it could be basic wear and tear. A damaged panel or section can look bad, but in some cases, it can also keep your garage door from working properly. Sometimes, a garage door section can be repaired, and sometimes it needs to be replaced.
Call For A
Free

Estimate

847-994-4997
Damaged Garage Door Sections
We Fix or Replace Broken Garage Door Section
Your garage door probably takes a lot of misuses. If you accidentally hit the gas pedal instead of the break, or one of your kids rides a bike into the door, a panel may become damaged. Sometimes, an impact is not too hard and there isn't an issue with the door's functionality.
It just might not look so good. But in other instances, a dent or crack may be critical enough to affect the working of the door. Then, it is time to call in the garage door section repair specialists from US Garage Door Repair®.
The Best Choice for Your Garage Door Section Repair
Professional Garage Door Panel Replacements near Deerfield
24/7 Garage Door Service
We Value Your Time
We don't want to change your schedule to accommodate garage door services. Our garage door company reaches your location whenever you need us. We complete the job efficiently and correctly the first time.
Great Value
Reasonable Pricing
It's annoying when a business advertises a free quotation for garage door services but charges for a service call. There are no costs associated with our estimates. We give you all the information you need to make the right choice for your garage doors.
High-Quality Service
We Go Above & Beyond
Call our specialists at our garage door company when you have problems with your garage door. Our suggestions will provide you with the required functionality and security measures.
Let Us Fix Your Garage Door Panels
Professional Garage Door Panel Replacements near Deerfield
There are numerous options for repairing damaged garage door panels. In most instances, replacement is quick, easy, and inexpensive. If your garage door is new, the manufacturer may offer you a replacement panel. Even though a bent section may be an easy fix, the issue needs to be tended soon to prevent the door from buckling or causing damage to other garage door components.
Call For A
Free

Estimate

847-994-4997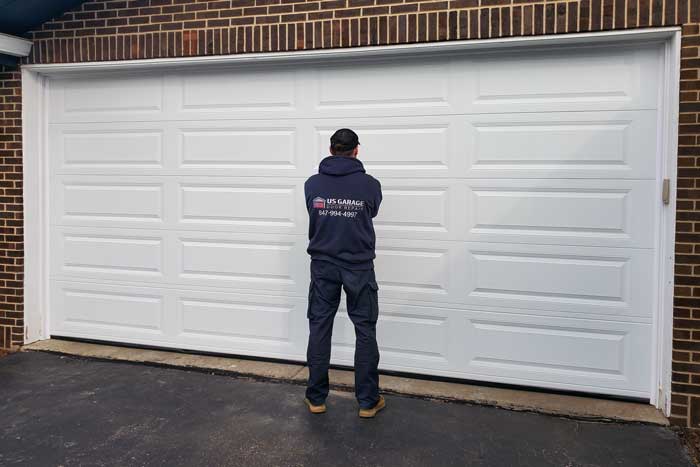 Our US Garage Door Repair® technicians will help you decide whether to fix the broken section or replace them. Call Us now at 847-994-4997 us to get more info.
Trusted Garage Door Services Deerfield
Professional Experience & Expertise
Even though the issue may seem minor, you'll want to get a professional garage door section repair as soon as possible. Failing to resolve the problem can cost you a lot more money down the road. The good news is that we have someone on-call 24/7! Call us at 847-994-4997 to speak with a knowledgeable professional now! You can also book an appointment on our website.
Our garage door repair company is licensed and insured. You can trust our experience and expertise!