Garage Door Spring Replacement Volo, IL 60020
Broken Garage Door Spring near Volo, IL?
Explore The Best Garage Door Spring Replacement Service!
You can enhance the curb appeal of your house by installing a garage door. The most important function of this doorway is to serve as an additional entrance to your house. Your garage door is used sometimes, just like any other home feature. Every time you leave for work or need something inside the garage, you use it frequently.
Garage door springs are susceptible to wear and tear, which may have an impact on their performance. Given the importance of your garage door, it is imperative that you address the numerous signs of broken garage door springs as soon as possible. You should consider replacing or repairing your garage door springs once you've located them.
US Garage Door Repair: Volo Garage Door Spring Replacement Experts
US Garage Door Repair®, a company that offers reliable service and repair in Antioch, IL, is home to a group of knowledgeable, skilled technicians that are prepared and able to identify issues with garage doors of all types – be it rolling garage door or electric garage door.
US Garage Door Repair® can assist you if you decide it's time to replace your current garage door, even though we offer satisfaction guaranteed with repairs too.
Need Garage Door Spring Replacement near Volo?
Contact us today if you need fast and professional garage door replacement service near Volo, IL.
24/7

Garage Door Service

847-994-4997
Garage Door Experts
Volo, IL
What Our Customers Say?
Lake County Garage Door Spring Repair Near You
Volo, IL
Volo Garage Door Repair Company
Signs That Your Garage Door Needs Garage Door Spring Replacement
Your garage door seems to be heavy
In case your garage door feels unusually heavy when you use it, you probably have a problem with its springs. The weight of your garage door is usually carried by its torsion spring. The door becomes useless if the torsion spring snaps. As you lift it, it becomes more difficult. In this case, you should inspect and possibly replace the spring.
24/7

Garage Door Service

847-994-4997
Your garage door makes a lot of noise
As garage doors are opened and closed, torsion springs rotate. Energy dispersed from the operation of the door can cause them to separate or break, making strange sounds. If you hear loud bangs coming from the garage, there might be something else going on. If your garage door makes loud noises, you can assume the spring is broken. You can solve the problem by contacting US Garage Door Repair® at 847-994-4997 since they are knowledgeable about replacing all types of garage door springs.
Your garage door looks crooked
In addition to keeping the garage door upright, garage door springs assist in opening and closing the garage door properly. Both sides of the garage door are supported by torsion springs. If one of these springs fails, this side of the garage door will be affected. Unless you fix the problem, your garage door appears crooked. Replace the garage door spring by a professional in Volo, IL to straighten the door and make it functional again.
Your garage door is responding slowly
If the garage door moves slowly, it may be time to replace the torsion spring. You should be able to run your garage door motor at a reliable speed if there are no problems with it. In the event of a broken garage door spring, your garage door will open and close slowly. It is caused by an automated change in the motor's speed.
You can see a visible gap
Your garage door torsion spring is made up of one or two springs firmly wound around the garage door. It is common for them to relax when they take a break. You should anticipate a gap appearing when that occurs. You should get in touch with our garage door service expert if you discover a gap between your torsion springs. Keep in mind that performing this task on your own will only make things worse. You must immediately contact Garage Repair Specialists from a local company in Volo, IL.
For Fast & Reliable Volo, IL Garage Door Spring Repair, Contact US Garage Door Repair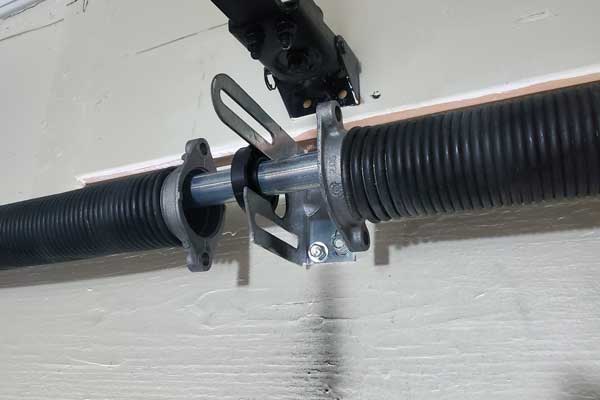 After
Always contact US Garage Door Repair® if you are interested in professional solutions for your garage door spring replacement needs or any other garage door inquiries.
Repairing garage door springs is not a task that homeowners should attempt on their own. Those who lack replacement experience risk suffering significant injuries from these risky gadgets.
Contrary to popular belief, springs can be changed on their own. The cost of replacing the opening mechanism might not be in the hundreds of dollars. To get a swift estimate on the necessary repairs, contact us at 847-994-4997 today and one of our knowledgeable and friendly associates will be more than happy to answer all of your questions.
Frequently Asked Garage Door Spring Repair Questions near
Volo, IL
Replacement of garage door springs costs $150 to $350 on average. Spring prices typically range from $30 to $75, but you can find them as low as $15 or as high as $100. Typically, commercial-grade springs cost $300 or more. In most doors, there are two springs, so you'll have to replace them both simultaneously.
It is still possible to open a garage door if the spring is broken, but it will take some manual effort. Because a broken spring makes the garage door heavier, using your garage door opener could wear out the motor. In the event of a broken garage door spring, we recommend that you do not open it.
In most cases, garage door springs are designed to open and close a garage door 10,000 times. In the average case, a garage door spring will last seven years if it is used four times a day.
Yes. When one spring breaks, you may be tempted to save money by replacing just one, but that will likely result in replacing both. On each side of a garage door, there are two springs. It is the springs that provide the force necessary to make the door light enough to lift.